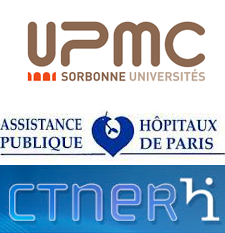 As part of a partnership, Pierre et Marie Curie University – Paris VI (Pitié-Salpêtrière department) and AFM-Téléthon have created a university training whose lessons started when the Institut of Myology opened in 1996. Its recruitment has been national right from the beginning, also in June 2000, this university degree turned into an inter-university degree, currently bringing together Paris-VI and Aix-Marseille-II universities.
Purpose
Rapid advances in research, the renewal of concepts, the evolution of patients' healthcare are making of myology a field well distinguished from medicine. The purpose of this teaching is to bring to students a consistent, organised and modern view of this subject on its anatomical-physiological basis, its clinical practice, its complementary explorations and its developments research-wise.
Teachers in charge
Pr Bruno Eymard
Pr Jean Pouget
Dr Gisèle Bonne
Programme
Lectures, presentations of files and documents
Practical demonstrations of different types of explorations
A practical internship, in a clinical or fundamental biology team (different options will be suggested, internship terms for each student are to be defined with the degree's coordinators)
Procedures
Length of education: 12 units, during 6 thrusdays and fridays, from December to May
Final validation: exam and internship dissertation viva
Places:

1. Institut de Myologie, Auditorium, Groupe hospitalier Pitié-Salpêtrière, Paris, France (10 units of 2 days)
2. Service des maladies neuromusculaires, Hôpital de la Timone, Marseille, France (2 units of 2 days)
Applications
This university degree is open to doctors and French and foreign medical students who have passed the 2nd undergraduate level of medical studies:
Residents
Junior doctors
Medical PhDs. All other applicants interested by this degree has to contact the teachers in charge of the degree.
Registrations
Deadline: November 28th, 2016
Fees 2016-2017 : laboratory fees : €274 (basic training)/€1000€ (individual or in-service continuous trainings ) + tuition fees : €261.10
Contacts
Address : Institut de Myologie, Groupe hospitalier Pitié-Salpêtrière, Bâtiment Babinski, 47-83 bd de l'Hôpital, 75013 Paris, FRANCE
Phone : (+33) (0)1 42 16 58 88
Fax : 01 42 16 58 87
E-mail : diu2016@institut-myologie.org
Website : http://www.institut-myologie.org/enseignement/diu-de-myologie/